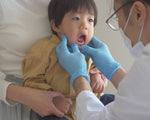 When is the right time for your child's first dental visit?
Most oral health experts recommend the first visit should occur around the time their first tooth appears in their mouth or at one year of age, whichever comes first. 

If your child has teeth, they are at risk of oral health problems. If they don't have teeth yet, they could still develop issues with their gums that affect the growth of their teeth in future. 

The first visits to the dentist will get them used to dentists and help them feel happy and confident for future visits, as well as keeping an eye on other problems and developments.
In New Zealand and Australia, children aged 0-17 (until their 18th birthday) are entitled to free basic dental services. Your child usually has their first check-up with a dental professional before their second birthday. New Zealand: you will need to enrol for this service, call 0800 TALK TEETH (0800 825 583).