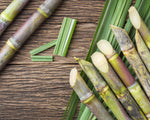 What's worse than sand in your knickers?
A bag full of broken glass and sunscreen! 
We typically choose glass for our packaging due to its infinite recycling properties and reusability options; however, that would not work with a product that needs to travel with you frequently. 
Glass is also heavy and requires extra materials to protect it in transit, which adds to its carbon footprint. 
We chose 100% sugarcane to house our new sunscreen for several reasons:
Physically and chemically identical to traditional petrochemical plastic, 

it can be recycled in kerbside collection as #2 

 (unlike other bio-based plastics, which cannot be recycled this way). Or even better, refill it and reuse it.

It is generated from sugarcane pulp, a non-edible byproduct of the agriculture industry.

Renewable and fast-growing crop. As it grows, it removes carbon from the atmosphere. Commonly planted on degraded pasture land, sugarcane helps recover the soil too on otherwise unusable land. 

Unlike traditional plastic, produced from non-renewable petrochemicals, sugarcane reduces fossil fuel needs. 

Reduced energy consumption in processing. 
We believe this packaging choice is currently the most sustainable and suitable option for our sunscreen. It is not a 100% zero waste solution; however, it is a significant improvement on alternative materials. Our ultimate goal is zero waste; however, at this point in time, there is no silver bullet.