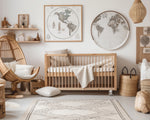 8 baby items you don't really need
As a new parent, it's easy to get overwhelmed by the number of baby products available to purchase. 

The baby industry is enormous, and it can be hard to know what you really need to buy new. It's no secret that raising kids can be costly, so as a mum of two, with the help of our fans, I have created a list of 8 baby items that may not be essential for new parents and may not provide much value for the money. You can save some space and a small fortune by skipping these items or purchasing them secondhand if you do find them necessary. 

Let's face it, sometimes less is more – and better for the planet too! 
Baby shoes/booties - funnily enough, newborns don't need shoes as they don't walk yet. In my experience, booties are also renowned for constantly falling off. Socks or onesies with feet are a much easier solution if you need to keep those little tootsies warm over winter!
Changing table – a dedicated changing table can take up a lot of space and be expensive if purchased brand new. Many parents use a changing pad on top of a dresser instead or simply pop it on the floor if you have a wriggler. In saying this, they can 100% save your back, but again, they are only used for a short duration, so it's best to buy secondhand and resell when you are done with it!
Baby bath – often unnecessary as a newborn can be bathed in a sink, in the shower with a parent, or regular bathtub with proper support. They often don't need to be washed every day, either. 
Bassinet/cot – another big ticket item, and a must-have for some children (including my firstborn), these items are redundant if you choose to co-sleep*, which is becoming increasingly popular.  
Portable white noise – the latest fad in sleeping aids, while it can be helpful, it doesn't work for all children. The latest research also shows they can contribute to infant hearing loss due to decibels and proximity of use. 
Baby bouncer or swing – can be helpful for soothing a fussy baby, they are not essential and may be used for only a short period.
Nappy bin – a regular bin works just as well (if dealt to swiftly!). This is obviously redundant if you choose to use reusables. 
Swaddles – can make a difference to how well newborns sleep in the first 2-3 months, and they generally settle quicker and sleep for longer at each sleep as it reduces chances of baby startling themselves. Swaddling must end when the baby starts rolling (around four months old) or if you choose to co-sleep*. So don't stock up on too many! 
Remember that every parent and baby is different, and what works for one may not work for another. If in doubt, buy secondhand if possible!
*Lastly, having a safe sleep space for your baby is crucial. Please do your research before embarking on co-sleeping.